The Art and Science of PCB Design: Bringing design intuition to every MIT Student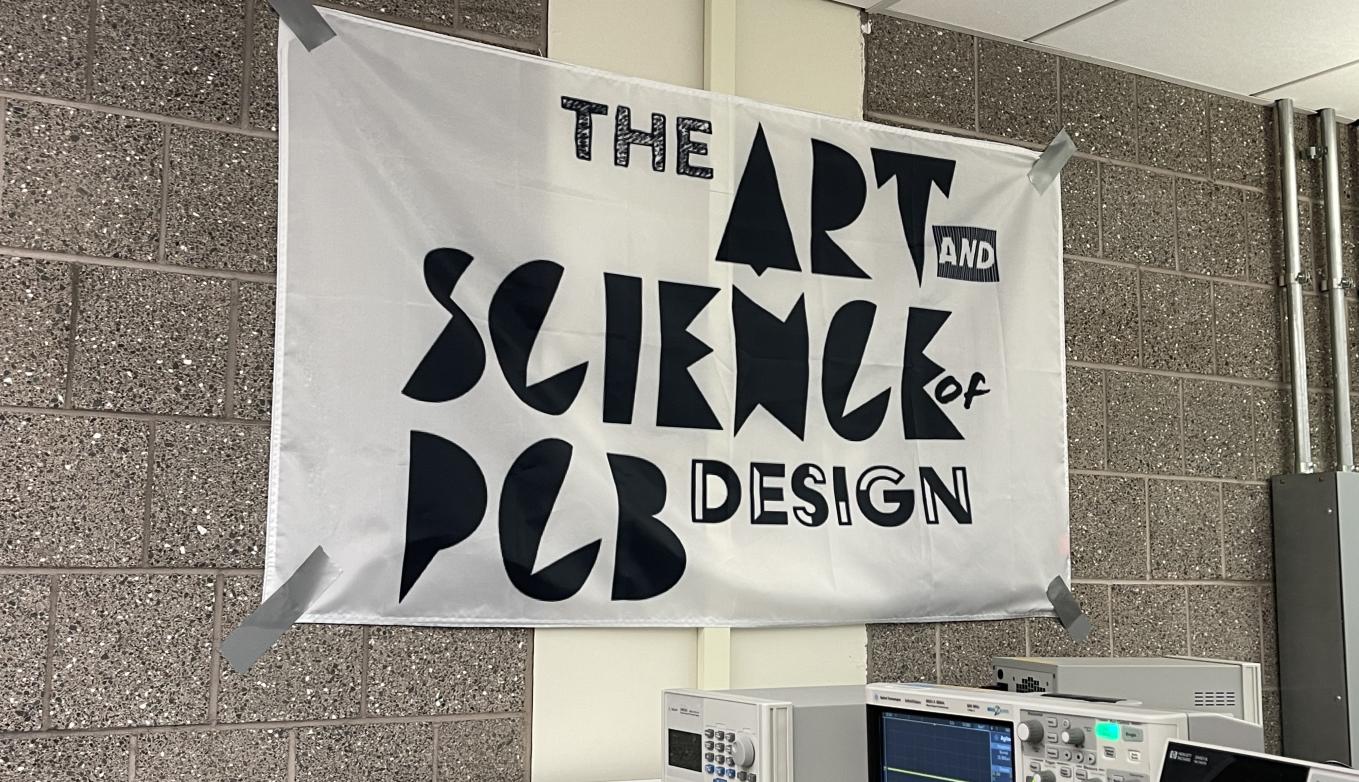 Adi Mehrotra '22 S.M./PhD and Fischer Moseley '22 M.Eng '23 teach skills from Edgerton Center Engineering Teams
Adi Mehrotra '22 S.M./PhD and Fischer Moseley '22 M.Eng '23 spent much of their free time during their undergraduate years in the Edgerton Center N51 Garage, where they served as Solar Electric Vehicle Team (SEVT) captain and Electrical Engineering Lead on MIT Motorsports.
"Race Car [MIT Motorsports] and Solar Car [SEVT] taught us about not just good electrical design but robust electrical design and design that's closer to the things you learn and the practical experience you get from industry," Mehrotra says.
Knowing how vital the skills they learned were for their careers, Mehrotra and Moseley set out to bring an abbreviated Edgerton team experience to every MIT student. "We thought: how can we be as aggressively practical in bringing the things that we learned on our Edgerton teams into a classroom setting?" Mehrotra says.
For months, the two deliberated about how to solve this problem, and their idea brought them back to the Edgerton Center, where they could get the funds and materials they needed to teach an IAP course in winter 2023: "The Art and Science of PCB Design."
They chose to focus on Printed Circuit Boards (PCB) because they offer many opportunities to improve design intuition.
"PCB design is something where you go directly from circuit design to something that you can hold, and there's a lot in between those two ends," Moseley shares. "It's a very end to end process. And if you can make your thing work on pen and paper or on a blackboard or in simulation or whatever, that's great. But if you're able to deliver that to the real world and deal with whatever messy, actual practical phenomenon come up, then you truly understand what's going on, and it just beats that into you. And there's no way around that. So it's a little unforgiving, but it's incredibly educational. And that's why we decide to use that as the delivery mechanism for what we wanted to give people."
The class offered a rare, hands-on opportunity for students to build their own Bluetooth speaker, or the project of their choosing. The classes were structured so that students had the maximum time they could experimenting and failing to help them learn.
Mehrotra and Moseley were surprised to receive 140 class sign-ups for the 6-unit class. The class was so popular that they even got interest from the Navy and Air Force, asking if any of their members could attend. (While non-MIT students couldn't take the class, Mehrotra and Moseley were pleased to refer them to their open-source materials.)
Mehrotra and Moseley wanted students to also see the big picture in terms of how these skills can make the world a better place. They consistently connected course content to the UN Sustainable Development Goals, trends in industry, and actual projects they were working on, through case studies and discussions. "I think this is a super critical learning component of the class and also I think very unique when considering other classes at MIT," Mehrotra shares.
The Bluetooth speaker featured a clear box that showcased its electrical components, encouraging students to think about the beauty of pieces that are usually hidden. "It's a great project," Mehrotra says, "Because it's something that's very familiar, but it has .. large levels of complexity when you get to actually designing and making it. . . when it's going wrong, you can tell very easily because you hear it."
"If we had a circuit that you could only test by plugging it into an oscilloscope or something, it could be broken, and you don't know. We want to rigorously give people design intuition," Moseley says.
Students learned schematic capture, board layout, assembly, and debugging. "You don't understand a circuit until you can debug it, same way you don't understand something unless you can teach it," Mehrotra says. They helped students along by building in a simple flaw to the PCB design. "It was a very simple problem if you followed the initial sets of debugging steps that …you should follow for PCBs that … we put on the website. But if you didn't follow those steps, you would not have figured out what was going on your board."
Mehrotra and Moseley were able to solve even the toughest challenges. "There was one super cool experience I had with a student which was they had to take their chip off and put it back on the board so many times that the pads actually ripped straight off the board. If you've never brought up a PCB before you're like, 'Oh, this is a disaster. What am I going to do?' But then we sat there and we took like tiny strands of copper wire, we were able to patch up the board," Mehrotra shared.
The art component of the class was essential because they didn't just want to teach people the functionality, but they wanted to push students to create the best design they could. "Being good at art makes you a better engineer," Mehrotra says. "PCBs are exciting, because they're beautiful. I compare PCB to urban planning, almost like you have this little city and you have all these little people who are going like these little people are electrons, and they have to go places."
In keeping with MIT's open-source culture and wanting to help budding engineers around the world, the whole course is available online – no MIT affiliation required.