At MIT, women students take the lead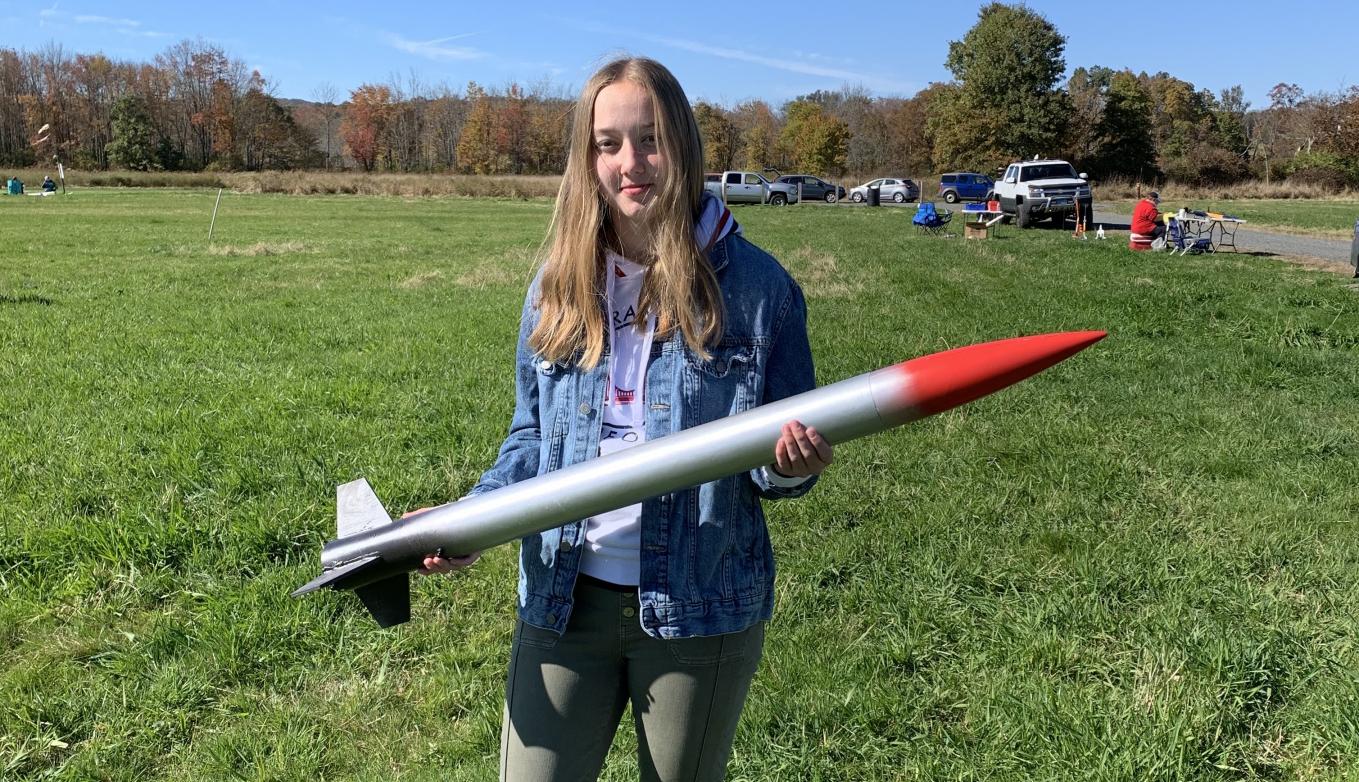 Undergraduate women students strengthen MIT Edgerton Center teams with diverse perspectives
Cameron Kokesh '23 crawled out of her tent on July 27, 2021, exhausted from 17-hour workdays in the Kansas summer heat. The MIT Solar Electric Vehicle team captain and about 24 other members were camping at the Formula Sun Grand Prix, where they would race their hand-built car against eight other teams to qualify for the American Solar Challenge.
Kokesh and her teammates made their way to the track bathroom facilities to prepare for a big day. As they showered, brushed their teeth, and discussed the exciting day ahead, something struck them as odd. The women's room was almost completely empty. They wondered, had they woken up before the other teams?
When they arrived at the competition garage, filled with students, they discovered the real reason: other teams had very few women.
"This was shocking," Kokesh said. "Some teams may have brought 15 members with one or two women, whereas we brought about 15 women altogether."
Much like the locker room before a sports game when teams build adrenaline and size up the competition, the bathroom before a competition is often a place to discuss winning strategies and pick up on others' impressions of the track.
Despite not having the benefit of this critical aspect of the competition, Kokesh's team won First Place in the Single Occupancy Vehicle category at the American Solar Challenge, as well as a Team Spirit Award. 
"MIT sometimes allows us to live in this bubble of inclusion and diversity of background and identity," Kokesh reflects. "When you take a step back, you realize that industry and academics have not fully reached these levels."
At the Edgerton Center, women leaders on teams are the norm. J. Kim Vandiver, Forbes Director of the Edgerton Center, intentionally created a space where people of all backgrounds felt welcome since he founded the center in 1992. This required input from people with diverse perspectives. "I had some wonderful women colleagues who helped me to see our working environment and, most importantly, take action when it was needed," he says.
The advantages of a fresh perspective
Many first-year students join the Edgerton Center teams with little prior knowledge, and students in higher years teach them everything they needed to know. "Often we can feel very uncertain when we see experienced men who are very knowledgeable," says Summer Hoss '23, who was the captain of the Rocket Team last year. 
However, Hoss found her experience level to be an asset during her presidency. "I am not afraid to ask lots of questions to the more experienced members, and often these ponderings challenge the way the team has done things in the past," she says. Their project Phoenix, a two-stage rocket capable of passing the Kármán Line, the recognized boundary of space, is almost ready for its test launch in April. 
Cheyenne Hua '19 entered MIT dreaming of working at SpaceX. When she applied for an internship, they recommended that she join the MIT Motorsports team, as they recruit heavily from there. "I joined not knowing anything and I spent the first year trying to absorb as much as I could. I did a wide variety of things to build up my skill set." By the end of the year Hua was asked to be the chassis lead, and the next year she became captain. Soon after graduation, Hua joined SpaceX as a structures engineer.
Recruiting and retaining people of all genders
Running an MIT Edgerton Center team is a lot like running your own company, but with many unique challenges. Being students, team members have a full load of coursework in addition to dedicating time to their team, which can be more than 50 hours a week. Further, everyone leaves after four years, whisking away a wealth of knowledge with them. The team lead must juggle recruitment, project management, spending, fundraising, team building, communications, and knowledge transfer, all while trying to complete their project.
Women team leaders took creative measures to retain people of all genders as their coursework grew more demanding. 
Hoss initiated a remote activity for the Rocket team's first-year students to design and build their own rocket by sending them rocket kits she put together. "I emphasized that no prior experience was needed to complete this project. As a result, exactly 50% of the participants in the program were women," she says.
The power of diversity
Kokesh, Hoss, and Hua all make a point to advocate for women. "Our team has learned the immense impact that women's insight, talent, and participation have on our team functionality and success," Kokesh says. "It is essential to bring more women into STEM, as each one brings their own unique and crucial perspe­ctive."
Kokesh encourages other women students to apply for leadership positions on teams. "Women often think they have to meet all these qualifications and more before applying to something, whereas men might meet a little more than half the qualifications and decide to apply anyway," she says. "It's important to have confidence in your ability to succeed in a position even if you don't have every single technical skill."
"I felt like I didn't have a lot of technical knowledge, but I encourage other women leaders to trust their decisions," says Hoss. "Once you make a decision, stick with it. Our intuition is better than we think."
Hua encourages other aspiring women leaders to advocate for themselves in ways that work for them. "Find an effective way to showcase how good you are. This can be different for everyone. I tend to do my work and let the work speak for itself. I do a lot of different projects and try to make my work stand out. Other people might find more success in putting themselves out there and introducing themselves via networking. Find the right method for you."
Kokesh is excited about how women are steadily changing the STEM ecosystem. "As we continue to go to these races, we are looking forward to waiting in longer lines in the women's bathroom."
This article was also published on MIT News.