Building a better indoor herb garden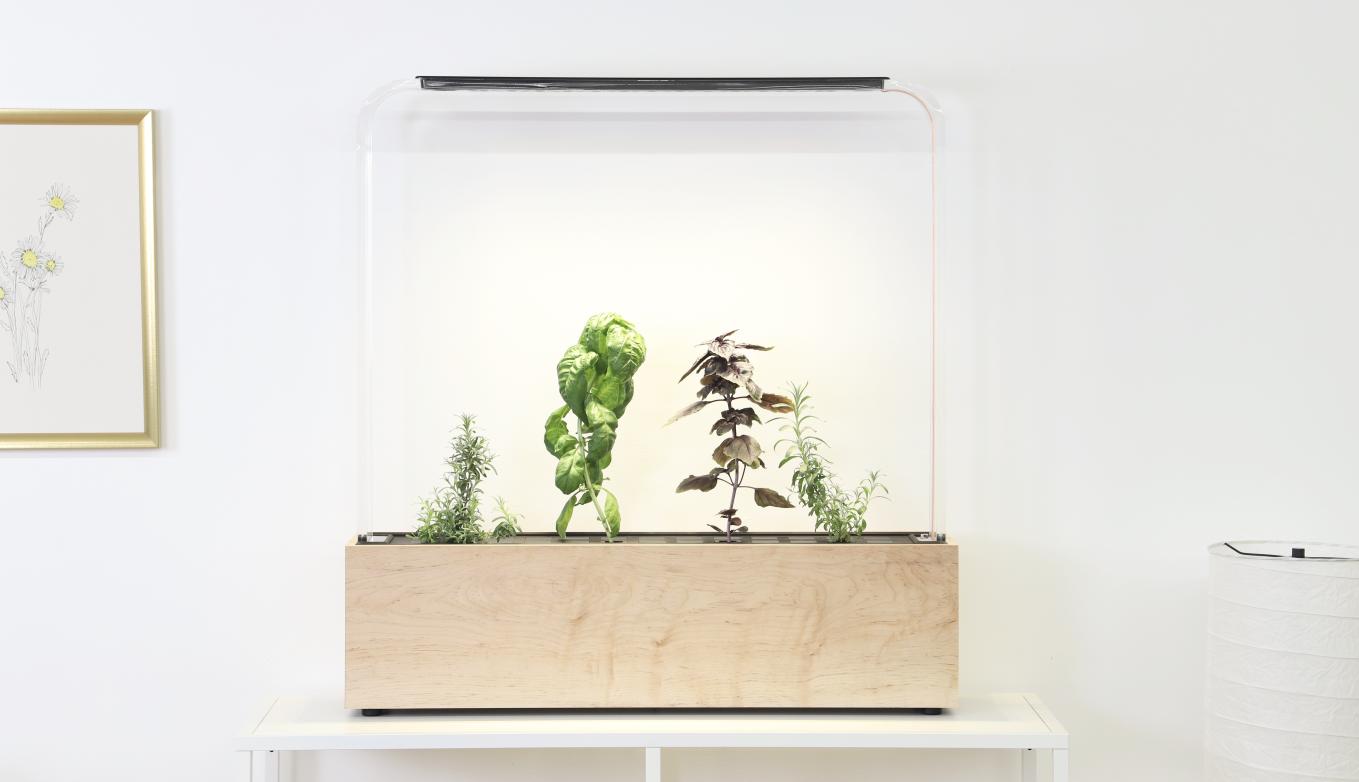 The GardenByte indoor herb garden by Randall Briggs '09, SM '18 grows crops three times faster than they would outdoors
Randall Briggs '09, SM '18 didn't set out to build indoor gardens when he arrived at MIT. The winner of the 2010 2.007 robot competition class, he was excited to work on designing fighter planes one day.
But in 2016, halfway through his studies for his Master of Science in Mechanical Engineering, Briggs' father passed away unexpectedly. "It was a big blow to me. My motivation took a big hit, so it was hard for me to keep working on my research," Briggs shares.
Briggs ordered a home hydroponic garden in the hopes that growing herbs inside his apartment could bring him some positivity. "There is something healing about seeing something organic and beautiful grow and develop," Briggs says.
When the garden arrived, Briggs found that many aspects of the design fell short. The plants weren't getting enough light because the LEDs were dispersing light throughout the room and not focusing it on the plants. "It's just not very pleasing aesthetically when it's, like a fluorescent color of light and it just fills your room," Briggs says.
He set forth to create a better indoor garden. Briggs turned his spare bedroom into a hydroponics lab, testing herbs growing under various lighting conditions and with different nutrient solutions. He read every book and article he could find on the subject. "The same seed pods that I had used in that cheap garden, when I moved them over to my garden, they grew way faster and way healthier and more fragrant and full of flavor," he says.
Working on this project became a daily source of joy for Briggs. "Every day when you come home, you want to see if it's growing a little bit more or to see how they're doing. I think that made me happy, too."
Briggs saw the potential for his garden to improve the wellbeing of others. "I thought if people had fresh herbs at home, they might be more inspired to cook for themselves instead of always just eating out. as it's normally a lot healthier to cook your own food at home."
After much research and experimentation, GardenByte was born: a tabletop indoor herb garden that is nearly 3 feet wide with almost 2 feet of height for the plants to grow, which is quite a bit larger than most models on the market. With Briggs' hydroponics technology, the plants grow three times faster than they would outdoors. His garden allows anyone to grow fresh herbs in a wide range of settings. And since plants have a longer shelf life than cut herbs, they also cut down on food waste.
Briggs was determined to make something that grows plants well and is attractive in a variety of settings. The outer case is handcrafted from solid hard wood from a local Massachusetts lumber yard, ensuring both durability and a visually pleasing aesthetic that seamlessly integrates into any kitchen or restaurant setting. The light bar, crafted from a single piece of crystal-clear acrylic, maintains an unobtrusive and ethereal appearance. This choice complements the overall design while allowing the LED lights to emit a powerful simulation of full sunshine. To ensure a smooth transition from daytime growth to evening, four different types of LEDs were incorporated. Polymer lenses focus the light directly onto the plants, preventing any wastage or unnecessary light spillage in the room. A light and color sensor on top detect the lighting conditions in the room and automatically adjust the lighting in the garden to match, enhancing plant growth. The grid tray is designed to accommodate up to 39 plants at once, offering ample space for an array of herbs. To simplify plant care, the garden is connected to a mobile app that will allow you to care for your plants while you're away.
The herb garden contains computer numerical control (CNC) machined aluminum parts, in contrast with the flimsier plastic most products use. The heat flow capacity of aluminum disperses the heat from all the LEDs and the aluminum grid tray helps keep it compact and thin but rigid, so users can lift the plants up without it bending.
Briggs received his foundation in machining as an undergrad at the Edgerton Center, where he was on the Motorsports team and Electric Vehicle Team. He learned how to use the CNC machines in the Student machine shop at the Area 51 garage under the tutelage of Instructor Pat McAtamney and Briggs' teammates.
Building an electric motorcycle on the Electric Vehicle Team for the Isle of Man TT race in 2011 helped prepare Briggs for creating a robust product for production. The race took place on city streets, raising the potential for deadly crashes. "When we were building that motorcycle, the head of our team Lennon Rodgers, kept reiterating to us, you got to think aircraft quality, like aircraft quality. This is actually a life-or-death project. Seeing the way that he led, and the way that he really set the bar for quality and for execution and kind of kept things moving was really helpful for me."
"My hope in the future is to make a more mass-market version that's a little bit cheaper and more available to everybody," Briggs shares.
The feedback from his first customers has all been positive. After delivering the product to a chef in Boston, Briggs said, "He told me that the whole first evening he was sitting at home with his boyfriend and he just kept staring at it, and he's like, it is so beautiful. It is so beautiful."
 "I feel like something that my dad taught me, was that sometimes to do hard things, it does take hard work, and that it's not always going to be exciting, necessarily," Briggs shares. "It's good to be inspired, it's good to be passionate, but it's not always going to get you through. And sometimes it's just hard work that you got to press through the tough parts."
GardenByte has now launched for pre-order and can be preordered here.