Students Create a Maker Community at the Edgerton Center Over IAP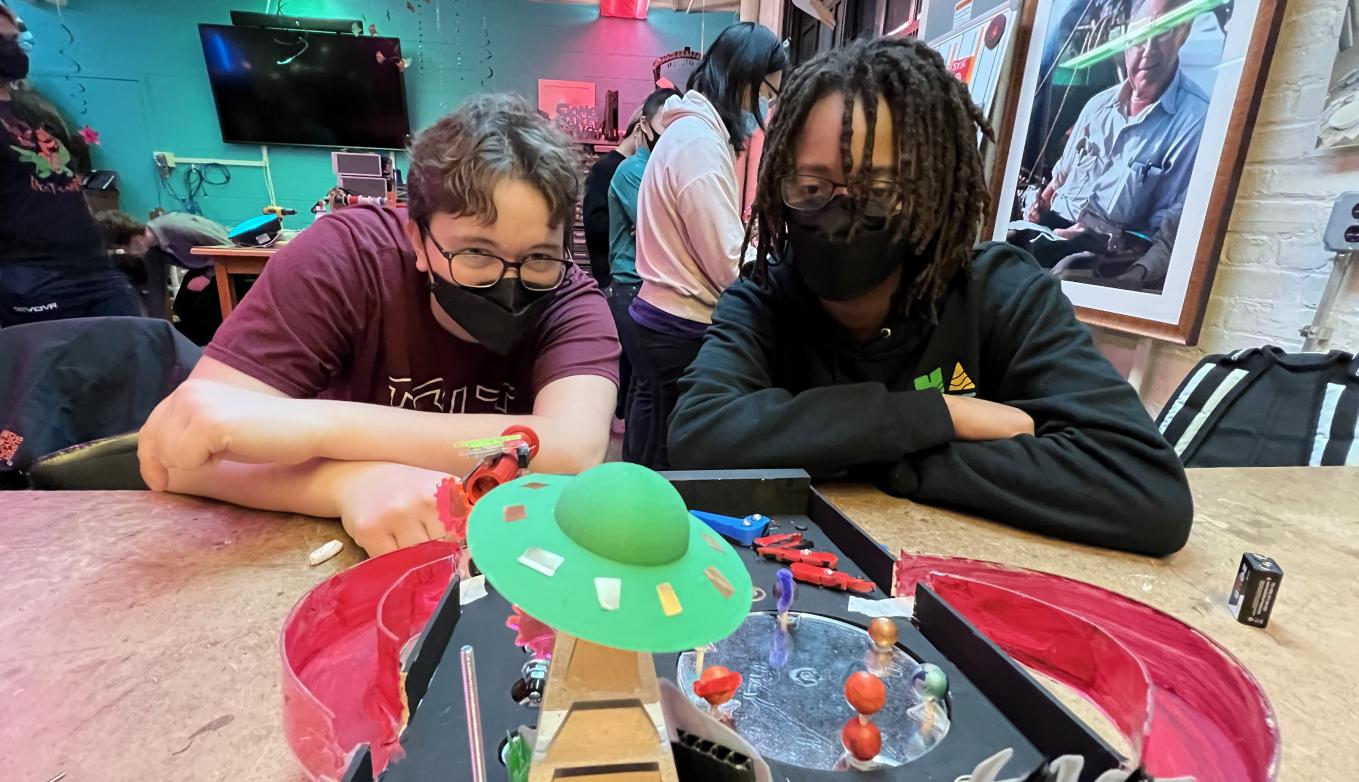 Pinball, crochet and origami draw dozens into workshops, where students master machines and become teachers.
Amidst bouncy dance music and shiny streamers, students raced to complete their IAP projects for the pinball showcase on Friday, January 28th, at the Edgerton Center. The pressure was on, but all in good fun.
In one corner, through a long tube, a student rolled a ball journeying to erupt through a volcano. The design wasn't working quite right yet, so other students crowded around to problem-solve, climbing on the tables to see if adding force to the throw would create a greater eruption. In another corner, two students were completing their "Pinbowl" game – a cross between pinball and bowling that they invented – where connected players tried to knock down the other's pins.
All students began with a pinball starter kit, designed at the Edgerton Center, and were charged with customizing their machines using the digital fabrication and electronics tools in the Edgerton Center Maker Lodge. "It's just a really fun experience to have total creative freedom over a project, and it's a wonderful way to learn how to use all the machines in the Edgerton Center!" exclaimed Audrey Chen '24.
Make It: Pinball! is one of five workshops offered at the Edgerton Center over IAP, where the spirit of hands-on learning comes alive through activities that stoke community-building, because that is the maker way.
"It is a phenomenal way to become exposed to engineering and computer science concepts in a friendly and manageable manner alongside a collaborative community," says Miles Roper '25, who used the pinball workshops to create a tribute game to his home state of New Jersey.
"These students aren't just learning to use maker tools," says Diane Brancazio, the Maker Team Leader at the Edgerton Center. "They are really creating community."
The Edgerton Center also believes in learning by teaching, inviting students to lead their own IAP workshops. When Brancazio discovered that Serena Li '25 loved amigurumi — the Japanese art of crocheting stuffed yarn creatures — she saw the perfect opportunity for Li to introduce this art form to other students by creating an IAP amigurumi workshop.
Li sought out a co-teacher by posting a message on the Class of 2025 Discord server. Soon after, Cindy Zhang '25, who spent her winter break crocheting frogs, responded, and a partnership was born.
Li and Zhang brought in a third co-teacher Angelina Zheng '25 and developed a plan for the workshop: to teach people the amigurumi crocheting technique and demonstrate how to turn a ball of yarn into a cute whale.
Every student who attended the final workshop left with an amigurumi whale that they crocheted themselves. That final result, a tangible whale that students can hold in their hands, is what Li and Zhang say they find most satisfying about crocheting, an activity that's both relaxing and mentally invigorating.
Andy Dequin '25, finds designing complex origami just as mentally stimulating. "There's a lot of problem-solving in designing, and a lot of frustration, but that just makes the end result more fulfilling, because of how hard it is to actually reach that objective," Dequin says.
When the MIT origami club disbanded during the pandemic, Dequin took the initiative to help restart the club last fall and run an IAP origami workshop, teaching other students how to fold a flying turtle, a complex origami design that he spent months perfecting after dedicating years to studying origami design. His popular workshop attracted more than 50 students ranging from beginners to experts. "I definitely feel like this class was successful in the sense that some of the people in the class had almost no experience, and by the end, they were folding these really complicated things that took me years to learn," Dequin says.
"You can use maker tools to get students interested in a project or subject area, and then they're learning and creating community," Brancazio says. "We see now there are more people learning and interacting with each other." The ongoing student interest was evidenced by a packed classroom over the first weekend of the Spring term, where students gathered at the Edgerton Center to continue the maker experience.
Brancazio was pleased to see the positive mental health effects on her students as they spent time being creative, noting "At the Edgerton Center, we think experiential learning is just good for your heart and your soul."