Eleven Student Teams Captivate at the Second Annual Edgerton Center Showcase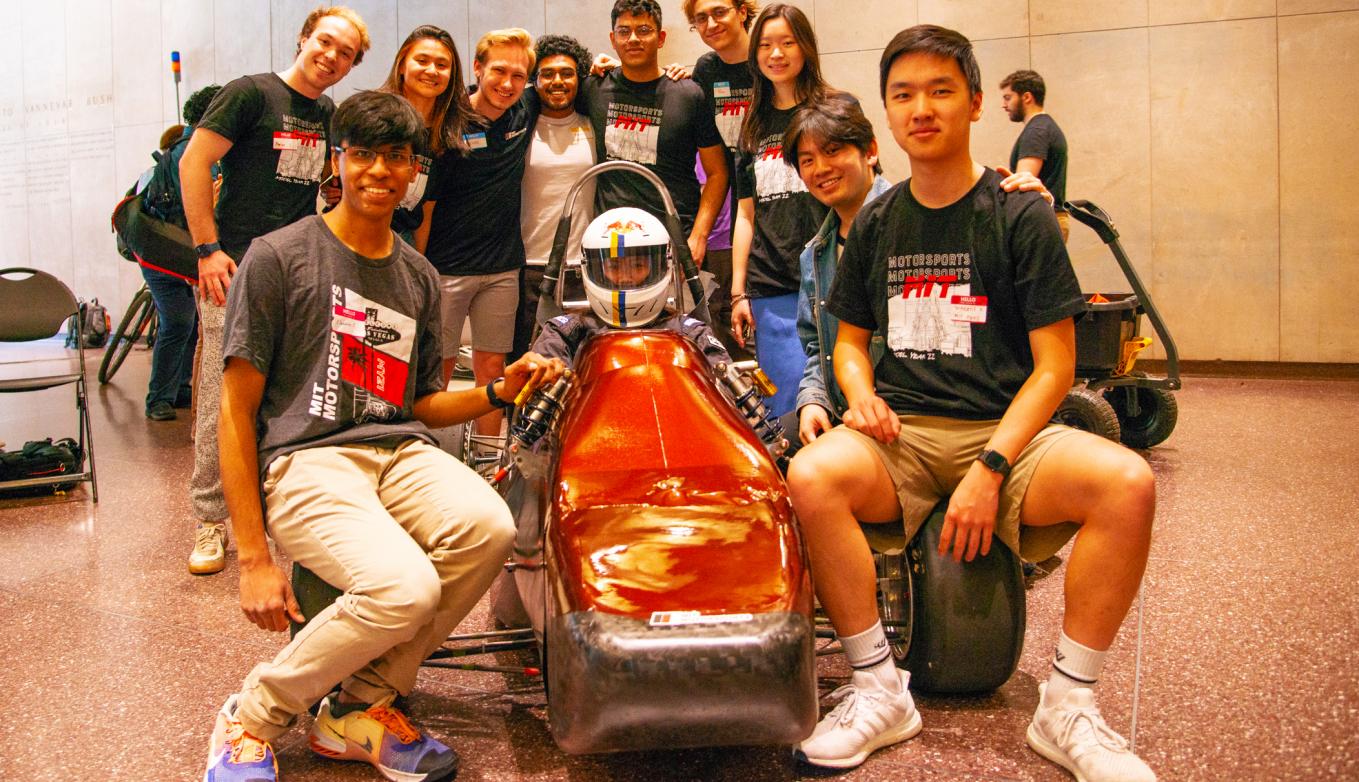 Projects included 8-foot rockets, hand-built motorcycles, and autonomous boats
On April 11th, 2023, the MIT Edgerton Center hosted its second annual Student Teams Showcase in Lobby 13, drawing an audience of students, faculty, alumni, and friends.
Eleven Edgerton Student teams displayed engineering projects including 8-foot rockets capable of traveling over 33K feet, hand-built motorcycles, and autonomous boats.
The introductory remarks by Edgerton Center Director, Prof. J.  Kim Vandiver were followed by a student-led panel which featured captains from each team.  Beyond the technical questions, whimsical questions abounded such as "Describe your team in one word" to which Rocket team answered "Boom!"
The program culminated with the unveiling of the Motorsports MY23 car. Megan Gupta-She '25,  Motorsports captain, expressed her excitement, stating, "Sharing our newest creation with the Edgerton community and feeling the support of the crowd was such a special moment."
Participating teams were Arcturus, The Engine Team, MIT Motorsports, Robo Team, Rocket Team, Design Build Fly, Driverless, Electric Vehicle Team, First Nations Launch, Solar Electric Vehicle Team (SEVT), MITERS, and Spokes.
Edgerton Center teams work in makerspaces across campus. This Showcase was a special way for teams to unite, get inspiration, and exchange ideas.
"The Edgerton showcase was really enjoyable to participate in, both to see all the cool things other teams have completed as well as showing what we have been working on" shared Diane Heinle '23, Co-CEO, MechE Team Lead of Robo Team. The Robo Team's purpose is to explore new technologies, learn critical skills, and promote the field of robotics by entering a variety of competitions and engaging in outreach events in the wider community.
"I particularly love demoing our robots to the little kids and seeing their faces light up. Hopefully some of them would be inspired by all the clubs to be excited about robotics and making things."
The showcase featured two new teams: First Nations Launch and The Engine Team. First Nations Launch seeks to encourage Indigenous methodology through engineering approaches that are intentional, patient, and respectful. "The Edgerton community approached and welcoming First Nations Launch with open hearts, ready to learn and discuss," captain Nicole MCGaa '25 shared. "Despite MIT's ongoing challenge to support Indigenous students and methodologies, I'm happy to say that Edgerton and all those a part of it are leading the way — taking critical steps forward in understanding and uplifting Indigenous science through First Nations Launch!"
The Engine Team, led by Charles Yong '25, focuses on enhancing power system efficiency by developing innovative engine designs and advanced control systems. "From a 10-year-old kid curious about how we prevent our engines from blowing up due to combustion, to a Course 2 professor sharing machining tricks with our team, it's truly fascinating to see how our engineering projects could bring people together from various backgrounds." Yong shared.
Enjoy a gallery of more images below!
Photography by Jaypix Belmer